---
This is a brand new series by Defencyclopedia, where we bring you the most recent and relevant happenings in the world of defense. Each report will have our analysis and opinion about it.
Spanish Navy to get 6 new frigates
The Spanish government has approved the construction of a new class of multi-role frigates, the F-110, to replace the 6 aging Perry class ships which are in service as the Santa Maria class. Arriving around 2020, these ships will complement the larger Álvaro de Bazán-class frigates (F-100). At 4000-5000 tons, the F110 will be smaller than the 5700 ton F100 class frigates. The main focus will be on low operating costs, commonality of weapons systems and to make it future proof.
The new ships will feature
An integrated mast with AESA radars
24 Mk41 VLS cells for SM-2 and ESSM
127 mm main gun + secondary gun CIWS
Bow mounted, Towed Array sonars and torpedo tubes
Space for mission modules to carry UAVs, USVs and a variety of equipment depending on the mission
Indian Navy officers and designers visit the carrier PCU Gerald R Ford
In a move that has almost confirmed that the next carrier of the Indian Navy will be a smaller version of the US Navy's latest carrier, an Indian Navy team has visited the Pre-Commissioning Unit (PCU) Gerald R Ford, which is undergoing final tests prior to its induction in 2016.
Ever since a deal was signed between India and the US to jointly design a 65,000+ ton aircraft carrier with technology such as the EMALS and Advanced Arrestor Gear, there was a strong speculation that they may adopt the US Navy's carrier design and layout. This visit seems to be intended for getting an idea of what all they would need in their next carrier which has been tentatively called INS Vishal. It could also end up being nuclear powered if India gets full assistance from the US. The Rafale-M, E-2D Hawkeye, and S-70 Seahawk will form the air group in my opinion. Concrete details about the INS Vishal will be available only in 2016 when actual work has started and the specifications have been frozen.
Syria receives 6 MiG-31 interceptors from Russia ?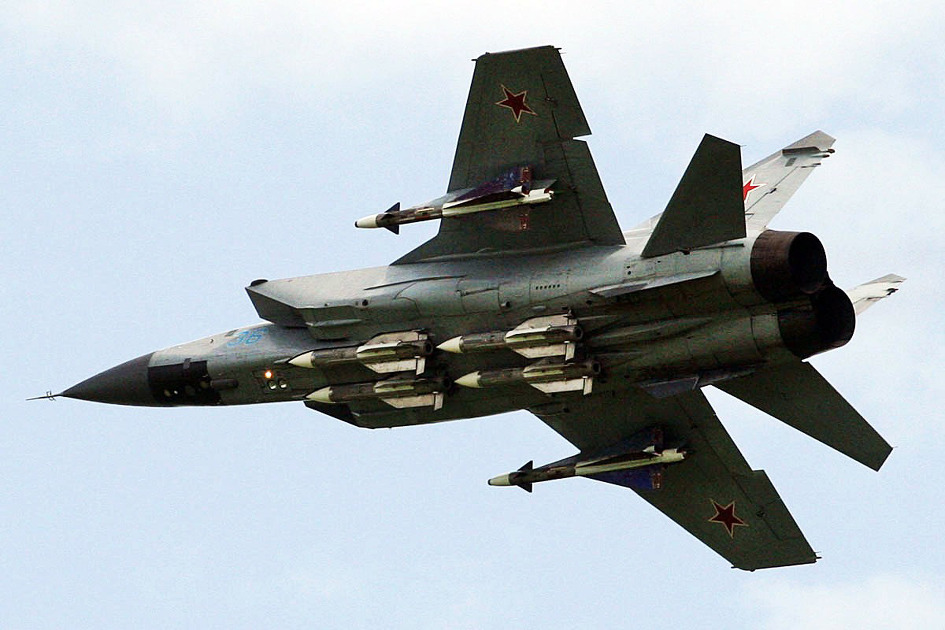 According to a report by Janes, the Syrian Air force has received 6 MiG-31 interceptor jets from Russia. It seems to be a move to counter Israel, who have repeatedly engaged in air strikes over Syria and targeted several military installations. It is unknown if Syria has received the long-range R-37 missiles which can shoot down enemy fighters and cruise missiles over 250 km away. It's powerful Zaslon PESA radar can detect fighters from a long distance and give Syria an advantage if Israel decides to conduct airstrikes in the future. But 6 MiG-31s are unlikely to make any difference as extensive training, AWACS support and mid-air refuelers are required to operate the Mach 3 interceptor with efficiency as it burns fuel at a phenomenal rate during its high-speed dashes.
Alternate reports suggest that Russia has delivered the MiG-31s already and it will be Russian pilots who will be flying them. It's supposed to be an answer to the deployment of USAF F-16s in Turkey.
Russia to build 2 massive early warning radars
In a move to enhance radar coverage in the Arctic region, Russia will build 2 massive radars to detect ballistic missile launches, track aircraft and monitor the airspace. Dubbed as '5th generation radars' , they will operate with other assets like spy satellites to provide enhanced coverage of the Arctic. This UHF radar has a maximum range is 10,000 km. Its horizontal range is 6000 km and vertical range is 8000 km. At a distance of 8000 km, the radar can reportedly detect targets the size of a "football".
French sale of Rafales to India delayed
The Indian Air force has asked France to integrate the 36 Rafales it plans to order, with its Astra air to Air missile and Israeli Helmet Mounted Sights (HMS). But France has refused to do so, citing increased costs and delays as a consequence of the effort. France is keen to supply Mica missiles as a package with the Rafales. The Astra is the India equivalent of the Mica RF missile which is currently used on Indian Mirage 2000 fighters. The issue of HMS integration has cropped up as France does not use HMS on its Rafales, but offers them as an option for export customers. It is unknown how the situation will play out, but latest reports suggest that the contract will be finalized and signed by September 2015.
India has already integrated a number of Russian and Israeli missiles on its existing fleet of French Mirage 2000 fighters. So I doubt that this issue will affect the signing of the deal and France may finally see it inked soon. India can integrate the Astra on the 90 Rafales which it plans to build locally